Real Cauliflower Sandwich Thins Bread Alternative
If you've been looking for a way to replace bread in your diet with a healthy alternative, then my top choice by far is Outer Aisle Gourmet's Cauliflower Sandwich Thins.  I have ordered these both online and found them in my local organic food market.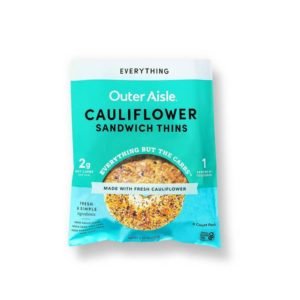 So what's the verdict on taste? These are awesome, hands down! They taste great and they have a few flavors: Original, Italian, Jalapeño.
Outer Aisle uses a few all natural ingredients to make sandwich thins, pizza crusts, and wraps.  There's also a new Broccoli-based bread alternative as well, which I am ordering pronto.
I love them and highly recommended them if you want to replace bread in your diet.
Outer Aisle Sandwich Thins are:
Low Carb
Keto Friendly
Gluten Free
Grain Free
No Flour
No Gums
Soy Free
Nut Free
Nothing Artificial 
1 serving of vegetables per piece.
100% Satisfaction Guaranteed
Get 20% OFF Outer Aisle Products