Superfood Raw Organic Walnuts and Vitamin E
Nuts are the ultimate natural snack but if you can eat nuts, meaning you're not allergic to them, then I would recommend raw organic walnuts as one type to get into your healthy diet.  Walnuts have a lot of nutrients and also contain some special Vitamin E.  I will get into that later but just know that walnuts are a Superfood for good reason.
Raw Walnuts Nutritional Facts
If you are concerned about walnuts being fattening, don't be.  Just eat them in moderation.  Eat a handful of raw organic walnuts a few times per week and you will be fine.  If you are eating whole foods, always try to eat organically grown or farmed.
Raw walnuts are a good source of plant based omega-3 fatty acids.  These nuts may be a little fattening but its the good kind of fat. But, again, eat these in moderation!
Also, walnuts are a source of Vitamin E, Vitamin B6, arginine, melatonin, fiber, magnesium, copper, calcium, protein, polyphenols, plant sterols, ellagic acid (a phenol antioxidant), and more.  These substances help to decrease the risks of conditions like Alzheimer's disease, diabetes, cancer, inflammation, and several other health risks.
These unassuming little walnuts may even help to ward off inflammation diseases like rheumatoid arthritis and asthma, as well as reduce the risk of psoriasis and eczema – being the superfood they are.
Even though walnuts are the subject of this article, all nuts are good for a healthy diet when eaten in moderation.
Heart Health Benefits of Walnuts
The US Food and Drug Administration has allowed this health claim label to be assigned to nuts in 2004:
Scientific evidence suggests but does not prove that eating 1.5 ounces per day of most nuts, [such as walnuts], as part of a diet low in saturated fat and cholesterol may reduce the risk of heart disease.
Studies have shown that eating 1.5 oz of raw organic walnuts per day could decrease the chances of getting a heart attack by at least 15 percent and possibly as much as 51%.
The plant sterols in walnuts can help with lowering cholesterol levels which, in elevated levels, could lead to arteriosclerosis.
Studies have given much attention to heart healthy walnuts and the benefits they provide when it comes to cardiovascular health.
Walnuts and Vitamin E
Walnuts are the top superfood nut when it comes to heart health because they also contain the highest amount of antioxidants when compared to other nuts. One of the reasons for this is the presence of a special kind of Vitamin E.
The most common form of Vitamin E is the alpha-tocopherol form.  This is what you find in the vitamin isle at your local supermarket.  But there are other forms of Vitamin E that are more powerful for this and provide a higher level of health benefits.
One of these other forms of Vitamin-E found in walnuts is an unusually high amount of gamma-tocopherol, which is the major form in most plant seeds and in the US diet in general.  But it doesn't get enough attention.
The National Center for Biotechnology Information cites in a publication abstract that…
Some human and animal studies indicate that plasma concentrations of gamma-tocopherol are inversely associated with the incidence of cardiovascular disease and prostate cancer. These distinguishing features of gamma-tocopherol and its metabolite suggest that gamma-tocopherol may contribute significantly to human health in ways not recognized previously. – http://www.ncbi.nlm.nih.gov/pubmed/11722951
There is another special form of Vitamin E that is found in walnuts and that is tocotrienols.
Tocotrienols are found in lower quantities in nature and walnuts are one food where it is found.  This form of Vitamin E provides a more potent affect for lowering cholesterol and cancer risks, protecting neurons, and possesses powerful anti-oxidant activity. 
One of the highest concentrations of tocotrienols in nature can be found in the annatto seed, but walnuts are a much more common food to get at least some amount of this most special and powerful form of Vitamin E.
When eating raw walnuts, I always recommend getting them organic. 
Raw Organic Walnuts
Beyond Nature, California Grown Raw Organic Walnuts, Vacuum Sealed & Double Packaged, 2 LB
Raw Candied Walnuts Recipe
If you choose to cook them or use them in some sort of recipe, then might I suggest this candied walnuts recipe.  These are a nice snack and popular, especially around the holidays like Thanksgiving and Christmas.
Just heat 1 cup of raw organic walnuts over medium heat in a non-stick pan with 1/4 cup of organic granulated coconut sugar and 1 Tbl of butter and stir for 5 minutes.  When they are done, take them out of pan and let cool.  I would also suggest using raw unfiltered honey as a substitute for the sugar as well.
If you'd rather buy them, then I recommend Trader Joe's Candied Walnuts.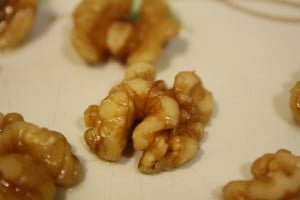 —————————
Thrive Market is an online store which delivers organic food to your door. You can find Grass-Fed Meats and Pasture-Raised non-GMO Chicken in its variety of organic selections.