One of my favorite superfoods of all time are Black Beans, or also known as black turtle beans, so as not to be confused with the black variety of lentil or soybeans.
Beans, in general, have many great health benefits including the ability to prolong life.  That's right – bean-eaters have been studied and the results say that they had an 8% lower mortality risk as compared to non bean-eaters.
Black Beans Are Powerhouses of Nutrition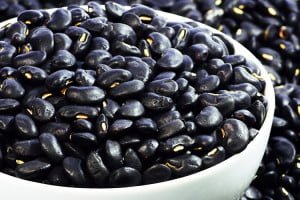 Obviously, this has to do with the bean's nutritional benefits such as the ability to lower cholesterol and also being high sources of natural fiber.  They are also very versatile, high in protein, and cheap to buy! This inexpensive food is called "poor man's food" for this reason.  But beans are rich in nutrition and therefore should not be ignored.
Other reasons why beans are so good for you include:  fight heart-disease, promote weight loss, stabilize blood sugar, relieve constipation, relieve diverticulitis, fight hypertension and Type II diabetes, lower cancer risk…
Beans contain low-fat protein, fiber, B-vitamins, iron, folate, magnesium, potassium, antioxidants, and phytonutrients (Phytochemicals).
Popular in Latin American cuisine, black beans are especially high in antioxidants and contain 10 times more antioxidants than oranges!  This little-known fact about black beans is reason enough to start eating more of these. 
The colored beans also contain the highest amount of polyphenols, of which the black beans are the darkest and therefore have a very high amount of polyphenols.
Black beans are also one of the highest sources of plant fiber next to Lentil beans.  This high fiber content helps to lower cholesterol and control blood sugar.  They give you that full feeling before you get fat and so play an important role in weight management.
A great compliment to black beans are Great Northern White Beans.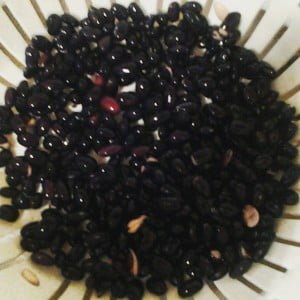 Black and White Bean Sausage Stew
I like to make a Black and White Bean Sausage Stew.  What I do is take some low fat turkey sausage or kilbasa, cut it diagonally into about 1/4 in slices, then sautee it in extra virgin olive oil, garlic, onions, and carrots, and add cut baby spinach at the end of cooking. 
Then I place the black and white beans (or just one or the other) into a sauce-pot along with 1 can of diced tomatoes.  I then pour fat-free chicken stock into the empty can of tomatoes until its full, and then pour that in with the beans and tomatoes.  Once the sautee of vegetables is done, add that to the beans and simmer until heated through or beans are fully cooked.  This is one delicious powerhouse stew full of protein and fiber!
If you happen to buy canned beans, get a low sodium brand and/or rinse them before using.  If you buy dry beans, make sure to soak them thoroughly for several hours first to avoid most the gas that usually accompanies beans.  During the soaking, periodically pour off the water and soak again with fresh water.
The above recipe is one way you can start getting black beans in your diet, and their nutritional facts is also the reason this is one of my all time "ultimate superfoods".